Huge Black Friday Sales! Our top 5 shops and deals.
13/11/2015
Black Friday is fast approaching, the day where shopping takes top priority for all the right reasons! Bargain hunters across the UK and around the world, try to grab themselves a great deal heading into the festive period.
The annual shopping event has been a huge success in America for years, but now shoppers on this side of the Atlantic can look forward to a day of huge discounts as more and more UK retailers get in on the fun and games.
We festive Britons are expected to spend £2,887,500 per minute on Black Friday this year, amounting to a total of £1.39 billion across the day! An estimated £810 million was splashed out on Black Friday in the UK last year, more than double the year before! 
Shops are set to make a total of £3.49 billion over the four-day spending spree, culminating with Cyber Monday, with UK shoppers expected to be responsible for two-thirds of Black Friday sales in Europe. We love it!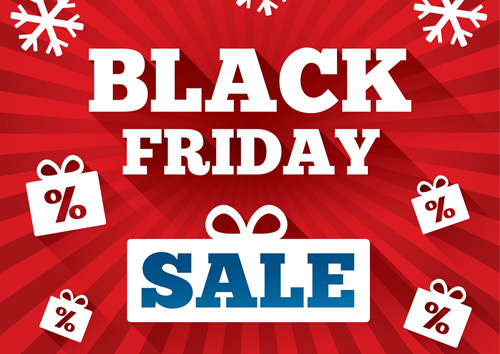 If you are hoping to get in on the bargains then below we've rounded up key information including when Black Friday is, our top five retailers slashing prices and a selection of the best Black Friday deals.
When is Black Friday?
Black Friday is on November 27th.
It is thought that shoppers may start seeing offers from as early as Monday, November 23rd though.
Online deals are likely to start from midnight, and some participating retailers will open their doors from then too.
Why is it called Black Friday?
There are couple of different theories behind the name but a popular one is that it means prosperity. Also, when shops would mark down earnings it would show gains in black ink and losses in red ink.
Which shops will be offering Black Friday deals?
Top 5 Black Friday Retailers
1. Amazon online only - check out the best Amazon Black Friday deals
2. Currys in stores and online- check out the best Currys Black Friday deals
3. Debenhams in stores and online- check out the best Debenhams Black Friday deals
4. Marks & Spencer in stores and online- check out the best M&S Black Friday deals
5. Boots in stores and online- check out the best Boots Black Friday deals
Best Black Friday deals 2015
Gaming deals
PS4: This looks like the best PS4 bundle out there at the moment, especially if you're a Fallout and/or Call of Duty fan. Pick up the 500GB PS4 with Fallout 4 and Call of Duty: Black Ops III for just £319.99 at Zavvi
TV and Video Deals
55-inch TV: Large 3D TV heavily reduced, down to £849 at Currys
Headphone and audio deals
Wireless Headset: Get the Sony SBH20 Bluetooth Wireless headset for only £16.99 at www.7dayshop.com
iPad and Tablet deals
Amazon Fire: Get Amazon's 7-inch budget tablet for just £49.99 at Currys
Laptop and Macbook deals
Lenovo: Pick up this handy Lenovo laptop which is down to just £168.98 at Ebuyer
Wearables Deals
Apple Watch: with 38mm Sports Band in Space Grey & Black - now £299 at Currys
DVD and Blu-ray deals
Blu-ray: Transformers 1-3 Box Set Blu-ray now £7.80 at Zavvi
Black Friday Sales with Cashback... What are you waiting for! Comment and let us know your experiences of Black Friday.