Cashback and discounts at Audible
This shop offer cashback, plus extra discounts
1 acties
Audiobooks with Discount at Audible
Audible has an extensive catalogue, with over 200,000 titles for millions of listeners to enjoy. Spoken word content encompasses audiobooks on every topic including classics like 'The Martian' and 'To Kill A Mockingbird'. Working across drama, comedy, the arts, current affairs, documentaries, sport, children's, entertainment and more, Audible's original content delivers the highest quality production values across all genres.
What is Audible?
Take your pick from the world's largest selection of audiobooks and audio drama, regardless of price, including the latest best sellers. Plus, members get unlimited access to original audio shows (podcasts) for the lifetime of their membership.
Listen anywhere,anytime
Audible is a fantastic way for people to fit more books, dramas and documentaries into their lives, no matter where they are or what they're doing. Listen and sync across your devices, while exercising, driving, commuting or even while relaxing at home.
Audible Originals
Audible commissions and produces its own titles – Audible Originals. Focusing on the highest production quality, with the best performers, Audible Originals delight listeners in new and exciting ways. Take a listen with the links to the right.
Exclusive member only savings
Save up to 60% off the retail price of any additional audiobook with member-only savings.
Discounts and Discount Codes for Audible
Up to 3.50 CashCoins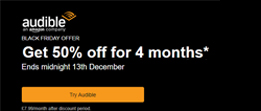 Get 50% off for 4 months at Audible
Valid until: 13-12-2019
Go to offer
Audible

Reviews
Bobo Zander | 01/12/19 05:22:23 | Store rating :

The range of books is e excellent and good value if you take out a subscription. I've knocked off a star because if the often dismal customer service. If the question is not a simple one they don't seem able to understand written English and give one fatuous formulaic replies.
Matt Hadley-day | 25/07/19 08:21:11 | Store rating :

Fantastic site with thousands of books to chose from, perfect for listening to on my morning runs. Compatible with my iPhone. Makes life easy for getting through more books when life is to busy to sit and read.
Nicole Holder | 18/06/17 19:07:13 | Store rating :

I started a subscription to Audible and it has completely changed my life. I can get through some amazing books much more quickly now and having the most notable books delivered to my ipad or laptop in a matter of minutes is amazing.