Cashback and discounts at Just Eat
This shop offer cashback, plus extra discounts
1 acties
Tuck into a takeaway today with Just Eat
Just Eat is the marketplace for online food delivery and provides customers with an easy and secure way to order and pay for food from restaurant partners. Just Eat has more than 100 cuisine types and 240K+ restaurant partners. Discover the wide range of Just Eat and order food online with cashback!
Discounts and Discount Codes for Just Eat
Up to 2.00% CashCoins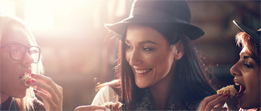 Fancy a takeaway? Enjoy Just Eat tonight
Valid until: 31-12-2021
Go to offer
Just Eat

Reviews
Gavin Davis | 26/01/21 08:22:08 | Store rating :

Ordered my meal from MacDonald on the just eat app on my smartphone. Even though the meal did comevand the delivery was a bit cheaper than uber eats it took longer than an uber eats delivery. If you dont mind waiting longer then just eat is the one for you.
sonia Ewers | 25/01/21 16:49:44 | Store rating :

I use just eat alot. I don't drive myself so it's nice to be able to order a take away and get it delivered. I have never had a problem with ordering and the service I receive has always been great. I would recommend just eat to everybody who want a hassle free delivery service.
Sammie Hodgetts | 25/01/21 11:13:38 | Store rating :

Love just eat quick easy app to use..love Billy's cafe the food is fabulous definitely recommended..delivery time are always reasonably on time especially maccis and greggs ..I would say give just eat ago and you wont be disappointed the food ranges from Chinese threw to Caribbean