Cashback and discounts at Sally Lane Jewellery
This shop offer cashback, plus extra discounts
1 Vouchers
Jewellery made to empower
The designs are Strong and also Feminine; bold but understated; wearing Sally Lane Jewellery empowers the wearer to do whatever they set out to achieve by reminding women of their own inner strength. Behind each piece, there is a positive message for life. The triangle is the centrepiece for Sally Lane Jewellery because it so perfectly expresses strength and elegance in its form. It breaks the mould from the traditional circle which is so widely used in jewellery and flaunts daring with its beautiful but pointed angles. This is jewellery for women who are in control of their own destiny.
Discounts and Discount Codes for Sally Lane Jewellery
5.00% CashCoins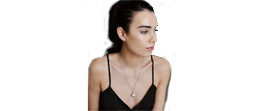 Ger 15% off a £70 first order with Sally Lane Jewellery
Valid until: 01-10-2019
Show code
Sally Lane Jewellery

Reviews

There are no reviews yet.